Modern kitchens are mostly modular in form owing to the dearth of space that one comes across in such kitchens. There are very few apartments and houses where the kitchens occupy a lot of space. Owing to the lack of space one has to make use of cabinets and shelves in order to contain all the items that are required for any kind of work in the kitchen. To create a sense of space in the kitchen some well known ideas for kitchen shelving can be taken into consideration. These are known to have a high success rate and are as follows.


Before installing kitchen shelves one should first take a walk around the kitchen area and locate possible areas where the shelves can be placed. The upper kitchen cabinets for instance can be moved in order to install shelves.


One can also install shelves in between the windows of a kitchen if there is enough space. Items which are required very frequently in the cooking process can be housed in plastic containers and jars and then placed over these shelves.


Pottery containers can be used to house the smallest items. The large mason bars also constitute a very attractive display option that can be used in a kitchen. One can style the kitchen shelves in any manner that one wants to in order to make them look visually appealing.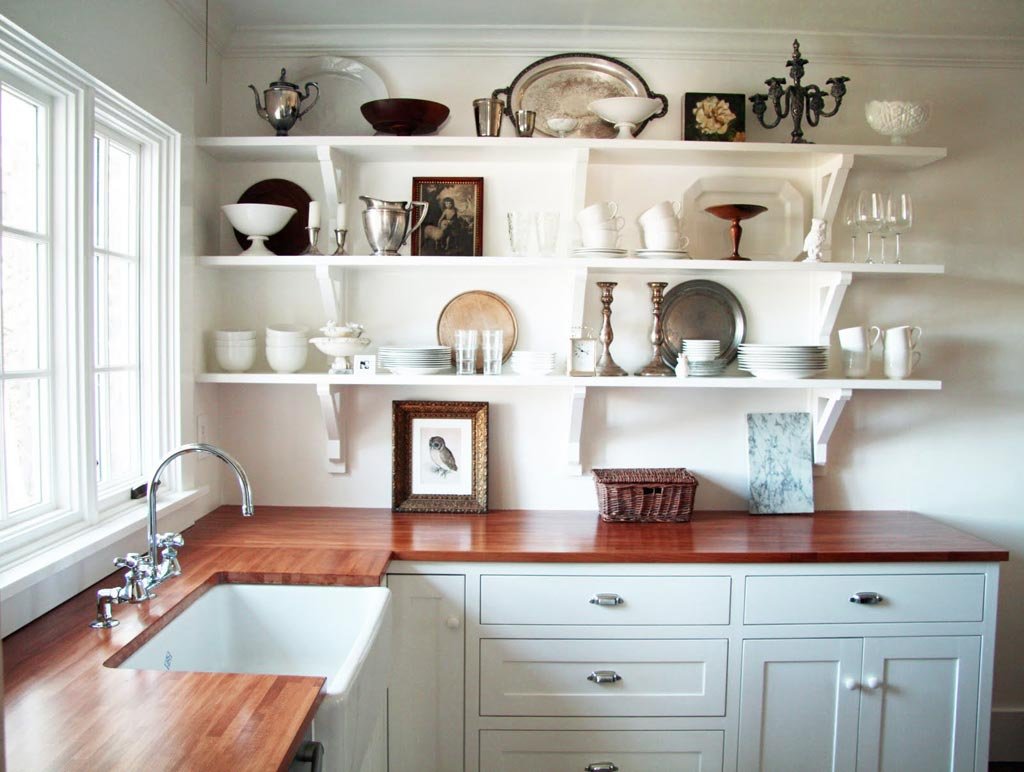 One can opt for one single color for all the kitchen shelves. The color which is used for painting the kitchen shelves should be one that is compatible with the color scheme of the kitchen in general. If the color scheme of the kitchen is a blue white color scheme then the color used for painting the kitchen shelves should be dark blue or perhaps baby pink.


Kitchen shelves that are made of steel are being increasingly used these days. However these kitchen shelves do not look half as attractive as the kitchen shelves which are made of solid wood. The steel kitchen shelves can be attached to the walls of the kitchen quite easily. They are also easy to maintain and are not prone to termite attacks.


Thus, there are a number of kitchen shelving ideas that one can consider in order to set up the most innovative shelves in a kitchen, and also, to create enough space for the storage of various items needed in the kitchen.